Creating And Sustaining Disciples of Christ Who Understand And Actively Apply His Teachings
Hello, and welcome to the Essential Spiritual Fitness Program.
This Essential Spiritual Fitness Program that I share through this website is a result of my own personal studies over the past 30+ years. I share it with you hoping that it will enhance your daily walk with Christ, as it continues to strengthen mine.
Because of my ongoing studies I set up the Program so that I can easily provide you regular updates to further help you develop and apply our faith.
The Program is multi-denominational; uniquely built on the teachings of Jesus, the Apostles, and the best-of-the-best from the 3 major denominations over the past 2000 years (Orthodox, Catholic, and Protestant).
Rather than any modern denominationally based seminary, each of these historic denominations have been, and continue to be, my teachers. I use the logic skills I've learned through my University degree in Information Systems, and 30+ years of practical software and business experience, to piece together the best-of-the-best from all of these denominations.
If you're as I was before coming under the tutelage of the masters of our faith—not familiar with the faith as it once was, before all the changes we see today that both water it down and significantly limit its power to change lives—then this will be, should you decide to give it a try, quite a journey for you; but a good journey I am sure.
Let me share some thoughts and a little about my background…
Over the years as I have pursued my career in Software Development and Business, I found that just like physical fitness, Spiritual Fitness requires regular activity to be effective. Indeed, with our busy, modern lives, including all the efforts we put into our families and careers, taking charge of our Spiritual Fitness can be as challenging for most of us as our continuing efforts at maintaining our optimum physical fitness.
As an example, don't we all have days when we think we're just too busy and so don't feel motivated to head to the gym or maybe grab our tennis shoes for a morning run … even though we know how vital exercise is to our physical well-being? Likewise, don't you find that there are days when, for one reason or another, you just never get around to sitting down and working on your spiritual fitness?
Well, this is the very sort of thing that led me to develop my Essential Spiritual Fitness Program, and ultimately share it with you so you too can take decisive action toward your own spiritual health. Once you get started you'll find there is much in the Program that directs you to live each and every day in the power of the Beatitudes. The following graphic is a nice summary of living such a life: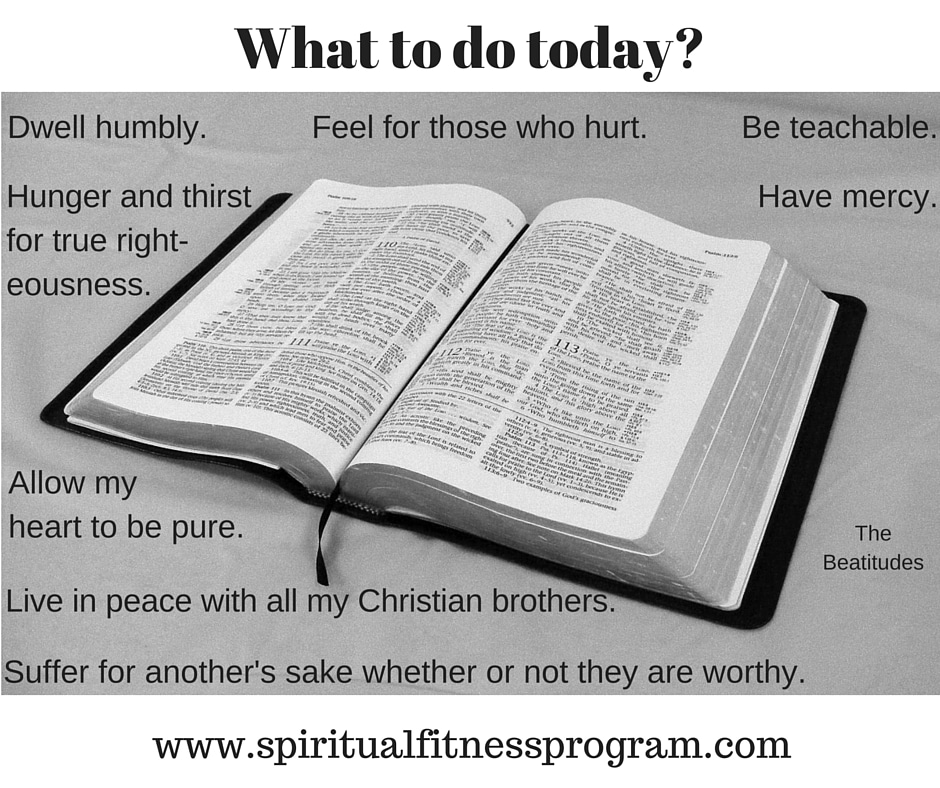 You'll find the Program easy … practical … and portable!
Make no mistake about it, Spiritual Fitness—the daily discipline of being in God's Word—is as vital to your soul as the daily discipline of physical fitness is to your body. To really grasp how important it is, I ask you to consider the words of Jesus in Chapter 8 of the Gospel of John, "If you continue in my word, you are truly my disciples, and shall know the truth, and the truth shall make you free."

By now I'm sure you can see that I believe this 'continuing' in God's WORD that Jesus speaks about is THE PATH to spiritual fitness…

And … that I find this Program I put together to be a BETTER WAY for me to continue in God's word than any other I know.
I hope it will be for you as well.
You see, spending quiet time with God in the study and understanding of HIS TRUTH for your life is the greatest way to became a true disciple of Jesus Christ.
If you end up being like me, you'll ultimately find the Program helping you to such a degree that it will make everything better in your life. Things will improve in every aspect of your being, including things like: an enduring and proper love of self … more patient parenting … happier work life … better communications in your relationships … really, just about everything will improve.
When you develop spiritual fitness as taught in the earliest manifestation of our faith, including developing the virtues, learning to censure your vices, and gaining the strength and integrity to follow through on right judgments, your life will simply be better.
Now a little background about my own journey…
Many years ago, as my wife Carolyn and I began the adventure of raising our children (a journey which continues yet today), we were faced with some very difficult questions.
We agreed we wanted to raise our children in a Christian way, one that would promote spiritual health and so give them the best chance to fulfill the fullness of their destiny—Heaven (what they did with that chance would ultimately be up to them). But, we were wary of the obvious failures of present-day Christianity. So, I began to deepen my studies—studies that had been ongoing since my earliest days—and those studies became the core mission of my life.
I read the Bible over and over. I read the New Testament over and over. I read every translation of the New Testament I could get my hands on—including the original English version by William Tyndale for which he was eventually burned at the stake in 1536—ultimately even compiling my own easy-to-read and easy-to-understand version that our family uses yet today. I studied the many and varied Christian denominations. I studied early church history. I studied the flow of cultures through the ages.
Then, I began to piece together the whole story of the gospel message one piece at a time; assembling the Christian narrative of Scripture from start to finish.
I took the good from the church. I took the good from history. I took the good from each of the many different denominations, including the early church fathers (orthodox), the western catholic church, and the protestant reformers … and I pieced it all together. As a born teacher and 'clarifier', I sought the simple elegance that is evident in all real truth, and pieced together the 'best-of the best' from all of my studies.
What I found was amazing
What I found was that the gospel of Jesus Christ, as it existed 'in the beginning', was the single most compelling story I had ever come across. So amazing, in fact, that I felt if I could only find a way to put it together in its purest form, all of us would have the best chance of being attracted to its inherent virtues.
The whole story, the in-depth study, the straightforward presentation of the gospel of Jesus Christ as I pieced it together using the best-of-the-best teachings from the past 2000 years—including the middle third of the gospel lost to the modern church—this is what I now share in my Essential Spiritual Fitness Program.
I hope you will benefit from my own personal journey into spiritual health and fitness; and, that this Program will captivate you and your family as it has ours. I really do believe that the Essential Spiritual Fitness Program, a practical, portable, daily Bible study course, is a better way to be in God's WORD. I hope you find it so as well.
Follow the link you see on this page below to get more information, and to help build your foundation for your participation in the Essential Spiritual Fitness Program consider my paperback book, The Pearl: The Captivating Story of the Wondrous Love of God.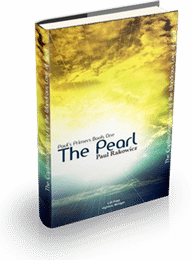 As you embark on this journey I'll be with you every step of the way through my over 1500 personal footnotes built into the course, representing the best-of-the-best from the three great denominations over the course of the past 2000 years uniquely compiled into one easy-to-understand and immensely practical living faith. As well, I'll be available to you through personal email and Facebook.
I know of no other Christ-centered spiritual health and fitness program that offers the 2000 year breadth of teaching from the 3 main historic Christian denominations, nor the personal guidance, that's available to you in this Program. If you like, you can even think of me as your personal 'Spiritual Fitness Coach'. You'll find it's like having your own personal guide to share with on your journey.
Thank you for taking your time here with me today, and may God bless you in the Way.
Pastor Paul Rakowicz